We create inspiring brands that change perception, engage audiences and help businesses flourish
At Detail, we believe that great design is a powerful way to tell a story, creating meaningful dialogue between an organisation and its customers. We are passionate about discovering the details that make all the difference, delivering added value through strategic thinking, careful research and finely crafted design.
We also believe in collaboration. We involve our clients in the creative journey right from the start. Our bespoke approach to each project we undertake ensures clear direction and enthusiastic commitment that leads to coherent design and results that everyone involved can be proud of. Not to mention an inspiring working relationship and long-term mutual trust and appreciation.
Put simply, Detail comprises a talented team of designers, producers and strategic thinkers who deliver exceptional creative work with depth and relevance. Combining creative talent with solid business acumen, we breathe life into every element across print, digital and experiential environments.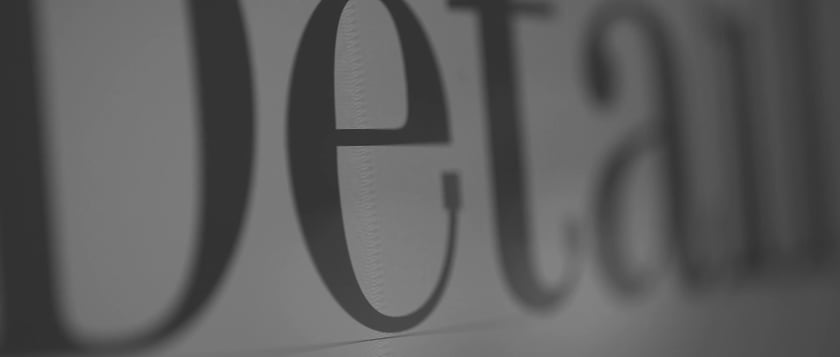 Strategy & Planning
Brand Identity
Brand Guidelines
Brand Guardianship
Campaigns
Print Design
Advertising
Internal Communication
Digital Marketing
Website Design
Animation
Video Production
Events
Exhibitions
Packaging
Signage
The company we keep
We work with a broad range of clients across a number of diverse sectors, giving us both breadth of experience and creative perspective. We are immensely proud to have won awards for some of this work.
Combining creative talent with solid business acumen, we are passionate about inspiring our clients and working with them to achieve their goals as well as building trusted long term relationships.
Detail Matters
Make us think.
Make us smile.
Makes things happen.
Breathes life into every element.
From the first word spoken to the last line drawn.
Stands the test of time.
Tells us we belong.
Is worn with pride.
Creates the beautiful whole.
Is our purpose.
Is our heritage.
Is our hallmark.
Detail is who we are